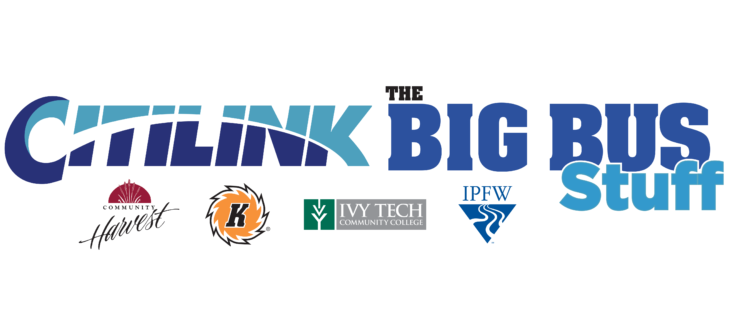 Get Ready for Citilink's Big Bus Stuff in Partnership with Community Harvest Food Bank, Komets, Ivy Tech, and IPFW!
Join us for the 12th Annual Citilink Big Bus Stuff!
Bring a food item or donation to Community Harvest Food Bank or any of the below locations and receive TWO tickets to a Komet's game! Proteins like peanut butter, canned chicken, and canned tuna are encouraged, but any canned food is welcomed and appreciated!
Donation Locations:
IPFW – Walb, Kettler Info Desks and Student Housing
Ivy Tech – Coliseum Campus Rom CC1440
Community Harvest Food Bank – 999 East Tillman Road, Fort Wayne
OR donate securely through PayPal by clicking the button below. You may then call us at (260) 447-3696 to schedule a time to pick up your tickets at Community Harvest Food Bank.
Tickets are available for the following games:
Wednesday, March 22nd @ 7:30PM
Saturday, March 25th @ 7:30PM
Sunday, March 26th @ 5:00PM