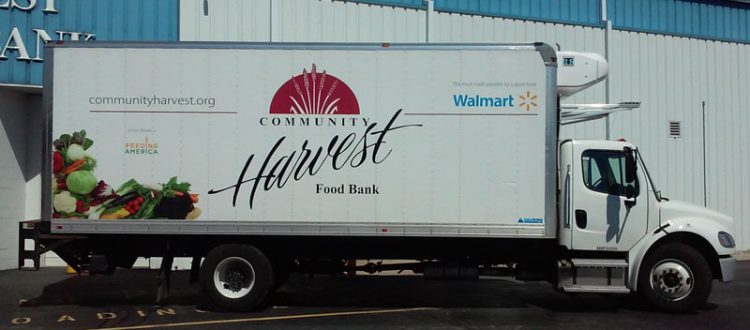 The Farm Wagon delivers fresh produce, dairy, and sandwich bread to low-income rural and city neighborhoods where people may not have access to that quality of nutritious food. They can choose the food they want and enjoy it while it maintains high nutritional value.
Initiated in October 1999, the Farm Wagon visits sites in Adams, Allen, DeKalb, Huntington, LaGrange, Noble, Steuben, Wells, and Whitley counties. The Farm Wagon program distributes over 40,000 pounds of fresh produce and other perishables every week.
Here's how the Farm Wagon works: a site agrees to host the mobile pantry and agrees on a delivery day and time. The site publicizes the delivery time. We stock the Farm Wagon with fresh food and drive it directly to the site. At the site's designated time, the truck arrives and people select the foods of their choice.
CANCELLATION GUIDELINES FOR THE COMMUNITY HARVEST FARM WAGON:
There will be no Farm Wagon deliveries if the following weather condition(s) occur:
*The outdoor temperature (actual NOT wind chill) at 7:15 a.m. in Fort Wayne is 0 degrees Fahrenheit or less and is not expected to rise throughout the day.
*There is a declared snow or ice emergency in Fort Wayne or county of the Farm Wagon distribution location.
CHFB will make every attempt to have the cancellation of the Farm Wagon announced on all media outlets.  We will provide it on our website, Facebook, and Twitter pages.