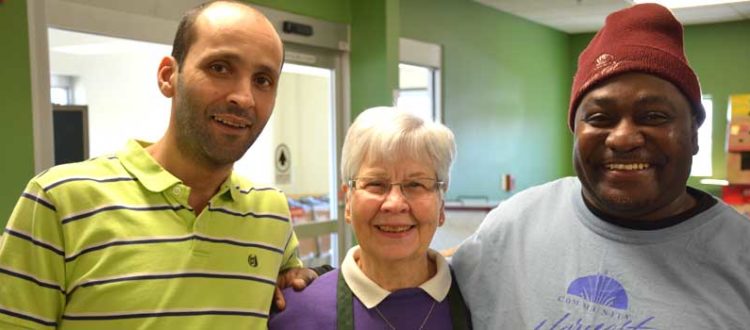 March 2017 Volunteer of the Month – Congrats Susan H!
March 2017 Volunteer of the Month – Congrats Susan H!
Susan H has been a volunteer at Community Harvest Food Bank for three years in our Community Cupboard pantry! She began volunteering because homelessness and hunger are issues that are close to her heart. She was looking for ways to help people in their time of need, and came to the food bank!
In her own words:
"I retired a few years ago then decided that I wanted to be able to give back and volunteer. Then I had a bucket list and Community Harvest Food Bank was on that bucket list and as I would drive down, I would look over and see the sign on the side of the building 'Community Harvest Food Bank' and I would always think that is one thing that I would like to do is to be able to help others in that way. Because I've always had a special place in my heart for the homeless and the hungry, and this really always gives me an opportunity to be with the people in need.
I've always shared with my friends that I'm volunteering here and to make them aware of how you serve so many communities and I think that you're what, nine counties in northeast Indiana? I always thought it was just Allen County. And so, the volume here is just amazing to me and we're always in need of donations because the shelves clean off pretty fast; you're always needing people to stock those shelves and so by volunteering here I can just see what the need is for volunteers to help keep the food bank supplied and then also the donations that come in. It's just wonderful that you get so many donations but they're always needed all year long—not just at Christmas."
Thank you so much for your wonderful service, Susan! You make so many things possible.